TURKMXXX (Dark Alley)

Fan Page

TURKMXXX (Dark Alley) is a bareback total top who's done 53 porn scenes and had sex with 56 different people on video (that we know of).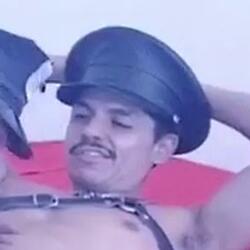 Stats/Details:
These stats are based on the data we have available to us. Our database is constantly growing, so in most cases these numbers are underestimates – the real numbers are higher.
Sites:

Raw Fuck Club

(53 scenes)
Scenes: 53

17 known anal scenes

Total top 17 times (100%)
96.4% of his fuck scenes were bareback

4 known fisting scenes
1 known piss/watersports scene
1 known BDSM scene
2 known oral scenes
2 known solo scenes

Has Had Sex With 56 People:

Ethan Chase

,

Viktor Rom

,

Drew Dixon

,

Antonio (Dark Alley)

,

Hairy Charly

,

Maxence Angel

,

Kryz XXX

,

ItalianXLFf (RFC)

,

Seba Equis

,

Alejandro Castillo

,

NachoDBille (Dark Alley)

,

Zonicman (Dark Alley)

,

Adrian Zuki

,

Chicodsconocido (Dark Alley)

,

El Diablito Chacal

,

Mystery Man

,

Hoodson (Dark Alley)

,

dax dax 93

,

Dieguito elfavo

,

Banana Cubana

,

ElChivoXXX (Dark Alley)

,

XISCO (Dark Alley)

,

Itsmefer7 (Dark Alley)

,

Charly Diaz

,

Pixxxie (Dark Alley)

,

Sugar Brown

,

Diego Elflavo

,

Pinkie Mike

,

Angelito Crush

,

El diablo de Vallarta

,

Axeloon Bernal

,

The Globetrotting Otter

,

Esteban (Dark Alley)

,

MasterTopFetish (Dark Alley)

,

Uriel (Dark Alley)

,

fersmith (Dark Alley)

,

Francisco Sanabria

,

BttmMexican (Dark Alley)

,

TheFuckBoy GaelXL

,

Cabroncitopgs (Dark Alley)

,

The Masked Sergeant

,

SoyCharlyDiaz69 (Dark Alley)

,

Alex uri12

,

Edd Ramirez

,

Aryeldiablito (Dark Alley)

,

Soytumuneco (Dark Alley)

,

Andresmexico7 (Dark Alley)

,

Andres mexico7

,

Samir Morais

,

Juan Martin

,

The Crystal Phantom

,

El Zorro Barbón

,

Ivo Rossi

,

Ivanok21 (Dark Alley)

,

Asher Lopez

,

Effy Oropeza



Topping Stats:

Has fucked 16 people:

Chicodsconocido (Dark Alley)

,

dax dax 93

,

Diego Elflavo

,

Dieguito elfavo

,

Drew Dixon

,

El Zorro Barbón

,

ElChivoXXX (Dark Alley)

,

Esteban (Dark Alley)

,

Ethan Chase

,

fersmith (Dark Alley)

,

Francisco Sanabria

,

Ivanok21 (Dark Alley)

,

Juan Martin

,

MasterTopFetish (Dark Alley)

,

NachoDBille (Dark Alley)

,

Seba Equis

He's barebacked 81% of the people he's fucked
Has been the dom in 1 BDSM video
Has been a fisting top in 3 videos