Jordan Fox

Fan Page

Also known as: Jordon Fox

Jordan Fox is a total top who's done 22 porn scenes and had sex with 24 different people on video (that we know of).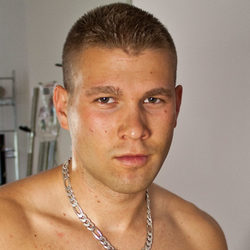 Stats/Details:
These stats are based on the data we have available to us. Our database is constantly growing, so in most cases these numbers are underestimates – the real numbers are higher.
Sites:

Jalif Studio

(10 scenes),

Young Bastards

(5 scenes),

Cazzo Club

(2 scenes),

Tim Tales

(2 scenes),

Kallamacka

(1 scene),

Fresh SX

(1 scene),

UK Naked Men

(1 scene),
Scenes: 22

7 known anal scenes

Total top 7 times (100%)
0% of his fuck scenes were bareback

2 known piss/watersports scenes
1 known BDSM scene
1 known solo scene

Has Had Sex With 24 People:

Carioca

,

Enzo Rimenez

,

Craig Farell

,

Marco di Lucca

,

Rod Malek

,

Ruben Fux

,

Eric Angeletti

,

Tony Maya

,

Lucas Davidson

,

Basti Winkler

,

Kenny Carlson

,

Jimy Fix

,

Bruno Bernal

,

Marco Valente

,

Lucky Joe

,

Pedro Diaz

,

Lloyd Adams

,

Cristian Martin

,

Philippe Delvaux

,

Nathan Lemal

,

Marcos Raidos

,

Sasha Poliakoff

,

Sahaj (Jalif Studio)

,

Richy Dime



Topping Stats: