CJ Bearded Brit

Fan Page

Also known as: CJBeardedBrit (RFC), CJ (RFC)

CJ Bearded Brit is a bareback versatile bottom who's done 61 porn scenes and had sex with 39 different people on video (that we know of). He is HIV negative and on PrEP (last we knew).

About CJ Bearded Brit: London-based cumdump who craves multiple loads. Occasionally gives loads as well. Has no problem with guys mistaking him for poz (given his ☣️ tat) if it means more guys wanna breed him.
Twitter Handle: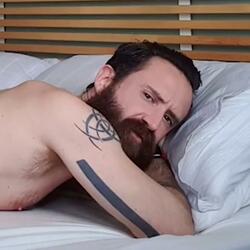 Stats/Details:
These stats are based on the data we have available to us. Our database is constantly growing, so in most cases these numbers are underestimates – the real numbers are higher.
Sites:

Raw Fuck Club

(61 scenes)
Scenes: 61

8 known anal scenes

Total top 1 time (13%)
Total bottom 7 times (88%)
97.3% of his fuck scenes were bareback

15 known fisting scenes
1 known solo scene

Has Had Sex With 39 People:

Lex Anders

,

Ashley Ryder

,

Adam Russo

,

Mickey Taylor

,

Freddy Miller

,

Viktor Rom

,

Damon Andros

,

Jack Dixon

,

HungerFF

,

Julian Torres (FFurryStud)

,

Silver Steele

,

Drew Dixon

,

SleazyPig (RFC)

,

Jake Nicola

,

Darek Kraft

,

Fabien Crunchboy

,

Leon XXL

,

Sean Monroe

,

Living Larger

,

Maxence Angel

,

Malorie Likes

,

Sergio Wilde

,

GayNaughtyWelsh (RFC)

,

Andrew SleazyPig

,

Portus (RFC)

,

ItalianXLFf (RFC)

,

Ale Tadasco

,

Brett Tyler

,

Pete Masters

,

Billy Bones

,

bighandsff (Dark Alley)

,

Omar Pozzi

,

Liam Branagh

,

Will Tantra

,

LondonGirthPlus (Dark Alley)

,

Paul Palmer

,

NextDoorTop (Dark Alley)

,

Fabio Godi

,

Fabio Goudi



Bottoming Stats:
Topping Stats:

Has fucked 1 person:

Adam Russo

He's barebacked 100% of the people he's fucked